Your Dispensing Device for Single-Component Fluids
preeflow® eco-PEN
A purely volumetric dispensing device that applies the smallest amounts of single-component or 1-component fluids – for high-precision dosing technology. Thanks to the ViscoTec endless piston principle, low viscous to pasty liquids are conveyed perfectly. Independent of viscosity fluctuations, a clean, process-reliable dosage is achieved.
preeflow® positive displacement pumps stand for high-quality products, from control units to industrial dispensers. Always following our philosophy: "smaller, more precise, economical". They are suitable for manual workstations as desktop devices or for automated operation. But also, as a built-in device in control cabinets or as front panel modules.
1-component dispenser: The preeflow® eco-PEN is impressive
Valveless sealed technology without dripping
Dosing pressures of 16 to 20 bar are possible
Smaller needle and nozzle cross-sections
Pressure tank maybe dropped, depending on material
Smallest dispensing quantity: 0.001ml
Products in detail
It must be good if it's being copied! Fortunately, our products are so successful that there are always companies who want to sell them – even without our permission. That's why they try to copy our products and partly even sell them under our name. When dealing with counterfeit products there can be big differences in quality. preeflow is not liable for copied products. We will be happy to tell you where you can obtain original products and accessories, for which we promise 100 % quality and reliability!
Smallest dispensing quantity: 0,001 ml
Adjustable dispensing flow: 0,12 – 1,48 ml/min
Weight: 280 g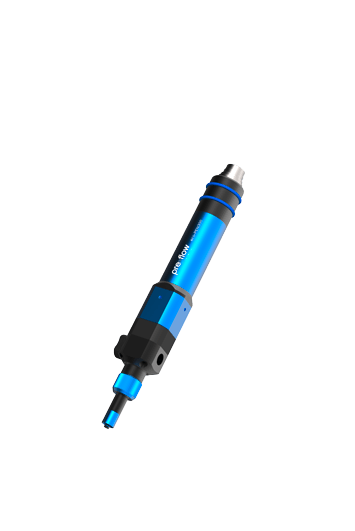 Description
The eco-PEN300 dispensing valve from preeflow offers a precision dispensing technology in a wide range of applications for low to high viscosity fluids and pastes.
Theory of function
The preeflow eco-PEN300 is a rotating and perfectly pressure-tight displacement system. The dispenser comprises of a self-sealing rotor and stator. Conveyance action by material displacement in the stator through controlled rotor rotation. Safe conveyance without any modification of the dosing material. With its suck back option, preeflow ensures clean and controlled material or medium cut-off while preventing post-dripping effects.
Data sheet eco-PEN300
Spare parts eco-PEN300
Control units

Description
The control unit eco-CONTROL EC200-K by preeflow offers a wide range of applications for the eco-PEN series of industrial dispensers.
Theory of function
The unit is microprocessor-controlled. It is simple to operate, without submenu, and has graphic support. External signals can be connected via I/O ports to a PLC for control in automated lines. A wide variety of dosing programs with part management are storable.
Data sheet eco-CONTROL EC200-K
preeflow® – automated dispensing systems
More than 20 years of experience in fluid dispensing. ViscoTec distinguishes itself with its comprehensive know-how in dispensing technology. In 2008, this wealth of experience was expanded with the introduction of the preeflow brand. With success: For more than 10 years, preeflow has stood for precise and purely volumetric dispensing of fluids in small and very small quantities. All over the world, a wide variety of industries rely on preeflow dispensing products. Always following our philosophy: Smaller, more precise, economical.