preeflow® − microdispensing in perfection!
High-tech automated dispensing systems from ViscoTec
The preeflow brand stands for precise, purely volumetric dosing of fluids in small and very small quantities. Following more than 20 years of experience in the dosing of fluids, "preeflow" was created in 2008 – the result: Microdispensing to perfection. preeflow products are integrated into automated dosing applications worldwide.
The unique quality of the progressive cavity pump makes it the perfect partner for dispensing technology, for example, in the dosing of 1- or 2-component adhesives. Whether automated volumetric dispensers such as the eco-PEN or eco-DUO, control units and analysis equipment: preeflow products always reflect our philosophy "smaller, more precise, economical".
---
Fields of application
preeflow progressive cavity pumps can be used in dispensing technology in a wide range of industries and applications. Whether in medical technology, biochemistry or in a laboratory: We offer dispensing technology suitable for each application – from bonding to underfill applications.
Products
preeflow products provide a purely volumetric and pulsation-free dosing. Whether 1-component dispenser, 2-component dispenser or spray dispenser: We are the experts in microdispensing to perfection.
1-component dispenser
Our 1-component dispenser: Your perfect partner for dosing 1-component fluids.
Find out more now
2-component dispenser
Our 2-component dispenser: With the preeflow eco-DUO you can optimally dispense 2-component fluids.
Find out more now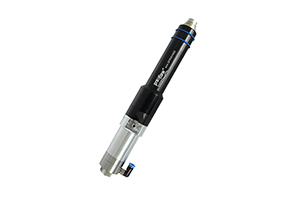 Spray dispenser
Our spray dispenser: The preeflow eco-SPRAY is ideally suited for high-precision nebulization and spraying.
Find out more now
Would you like to find out more? Then get in touch with us!
Our team will be happy to assist you.
To the contact form
preeflow® – microdispensing in perfection!
More than 20 years' experience in fluid dosing. ViscoTec distinguishes itself with its comprehensive know-how in dispensing technology. In 2008, this wealth of experience was expanded with the introduction of the preeflow brand. With success: For 10 years, preeflow has stood for precise and purely volumetric dispensing of fluids in small and very small quantities. All over the world, a wide variety of industries rely on preeflow products. Always following our philosophy: Smaller, more precise, economical.