Your Mixing Dispenser for the Dispensing of 2-component Fluids
preeflow® eco-DUO
Two component dispensing and meter mix systems by preeflow: The first purely volumetric dispensing system for precise meter mix dispensing and applicating minimum quantities of 2-component fluids and pastes. With targeted controlling of the single components the mixing ratio can be adjusted up to the second place after the decimal point. Independent from viscosity fluctuations, a clean and reliable dispensing can be achieved.
Controlled thread breakage, thanks to the suck-back effect, and other functions, distinguish the preeflow mixing dispenser of the eco-DUO series from other 2 part dispensing systems. With their simple and safe operation, the two component dispensing systems can be used flexibly. Experience precise mechanics combined with the latest digital control unit.
2-component dispenser: The preeflow® eco-DUO is impressive
---
Valveless sealed technology without dripping
Dosing pressures up to 40 bar are possible
The pressure tank is not required with self-levelling fluids
Self-sealing: No pressure valves are necessary
Guaranteed safety shut down
Products in detail
It must be good if it's being copied! Fortunately, our products are so successful that there are always companies who want to sell them – even without our permission. That's why they try to copy our products and partly even sell them under our name. When dealing with counterfeit products there can be big differences in quality. preeflow is not liable for copied products. We will be happy to tell you where you can obtain original products and accessories, for which we promise 100% quality and reliability!
---
Kleinste Dosiermenge: 0,005 ml
Regelbarer Dosierstrom: 0,1 bis 6,6 ml/min
Gewicht: 1.230g

Beschreibung
Mit dem 2K Mischsystem eco-DUO330 von preeflow gelingt die Dosierung von bisher nicht erreichten Kleinstmengen.
Funktionsweise
Der preeflow eco-DUO ist ein rotierendes, absolut druckdichtes Verdrängersystem. Das 2K Mischsystem besteht selbstdichtend aus Rotor und Stator. Die gesteuerte Drehbewegung des Rotors verdrängt das Medium. Dadurch wird im Stator die Förderung erzeugt. Ein Fördern ohne Veränderung des Mediums ist gewährleistet. Die Förderung erfolgt auch rückwärts. Deshalb garantiert der 2K Dispenser einen sauberen, kontrollierten Material- bzw. Mediumabriss ohne Nachtropfen.
Datenblatt eco-DUO330
Ersatzteile eco-DUO330
Control Units
---
Description
The control unit eco-CONTROL EC200-DUO from preeflow offers a wide range of applications for high-precision two component dispensing systems.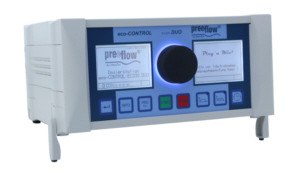 Theory of function
The control unit eco-CONTROL EC200-DUO has been developed and tested for accurate work with the preeflow high-precision, volumetric, 2-component dispensers. The control unit has a variety of configuration options to dispensing quantity, mixing ratio and dispensing time.
All production-related values can be stored and changed at any time. The operation takes place over an intuitive user guidance using a graphical user interface. An integrated pressure control ensures the optimum process safety of the system. There is also the possibility of data exchange with a USB interface.
Data sheet eco-CONTROL EC200-DUO
preeflow® – automated dispensing systems
Mehr als 20 Jahre Erfahrung rund um die Mikrodosierung von Fluiden. Dieses umfassende Know-how in der Dosiertechnik zeichnet ViscoTec aus. Im Jahr 2008 wurde dieser Erfahrungsschatz mit der Einführung der Marke preeflow erweitert. Mit Erfolg: preeflow steht seit 10 Jahren für präzise und rein volumetrische Dosierung von Flüssigkeiten in Klein- und Kleinstmengen. Weltweit vertrauen unterschiedlichste Branchen auf preeflow-Produkte. Immer im Sinne des Anspruchs: Kleiner, präziser, wirtschaftlicher.