Your Mixing Dispenser for the Dispensing of 2-component Fluids
preeflow® eco-DUO
Two component dispensing and meter mix systems by preeflow: The first purely volumetric dispensing system for precise meter mix dispensing and applicating minimum quantities of 2-component fluids and pastes. With targeted controlling of the single components the mixing ratio can be adjusted up to the second place after the decimal point. Independent from viscosity fluctuations, a clean and reliable dispensing can be achieved.
Controlled thread breakage, thanks to the suck-back effect, and other functions, distinguish the preeflow mixing dispenser of the eco-DUO series from other 2 part dispensing systems. With their simple and safe operation, the two component dispensing systems can be used flexibly. Experience precise mechanics combined with the latest digital control unit.
2-component dispenser: The preeflow® eco-DUO is impressive
---
Valveless sealed technology without dripping
Dosing pressures up to 40 bar are possible
The pressure tank is not required with self-levelling fluids
Self-sealing: No pressure valves are necessary
Guaranteed safety shut down
Products in detail
It must be good if it's being copied! Fortunately, our products are so successful that there are always companies who want to sell them – even without our permission. That's why they try to copy our products and partly even sell them under our name. When dealing with counterfeit products there can be big differences in quality. preeflow is not liable for copied products. We will be happy to tell you where you can obtain original products and accessories, for which we promise 100% quality and reliability!
---
---
Smallest dispensing quantity: 0,005 ml
Adjustable dosing flow: 0,1 bis 6,6 ml/min
Weight: 1.230g

Description
The eco-DUO330 precision volume dispensing unit made by preeflow dispenses the smallest of quantities of 2-component materials which until now have not been achieved.
Theory of function
The preeflow eco-DUO330 is a rotating, perfectly pressure-tight, two component dispensing system with self-sealing rotor-stator arrangement. Conveyance action by material displacement in the stator through controlled rotor movement. Safe conveyance without any modification to the material. With its suck back option, the mixing dispenser ensures a clean and controlled material cut-off while preventing post-dripping effects.
Other variants of the standard products are available on request, e.g. stator VisLas / drive train with rotor Diamond Coated / seals PTFE.
Data sheet eco-DUO330
Spare parts eco-DUO330
Control units
Description
The control unit eco-CONTROL EC200-DUO from preeflow offers a wide range of applications for high-precision two component dispensing systems.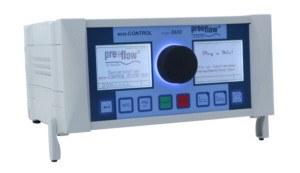 Theory of function
The control unit eco-CONTROL EC200-DUO has been developed and tested for accurate work with the preeflow high-precision, volumetric, 2-component dispensers. The control unit has a variety of configuration options to dispensing quantity, mixing ratio and dispensing time.
All production-related values can be stored and changed at any time. The operation takes place over an intuitive user guidance using a graphical user interface. An integrated pressure control ensures the optimum process safety of the system. There is also the possibility of data exchange with a USB interface.
Data sheet eco-CONTROL EC200-DUO
preeflow® – automated dispensing systems
More than 20 years' experience in fluid dosing. ViscoTec distinguishes itself with its comprehensive know-how in dispensing technology. In 2008, this wealth of experience was expanded with the introduction of the preeflow brand. With success: For 10 years, preeflow has stood for precise and purely volumetric dispensing of fluids in small and very small quantities. All over the world, a wide variety of industries rely on preeflow products. Always following our philosophy: Smaller, more precise, economical.