For dosage tests with different materials DYMAX Europe GmbH has used a preeflow® eco-PEN dispenser. Concerning UV-curing adhesives in the area of microdispensing there are often issues while applied with conventional dosing systems. Especially lowest amounts with a particular constant and precise form of a dispensing line or fillers including adhesives, can mostly be managed perfectly with preeflow® dosing systems.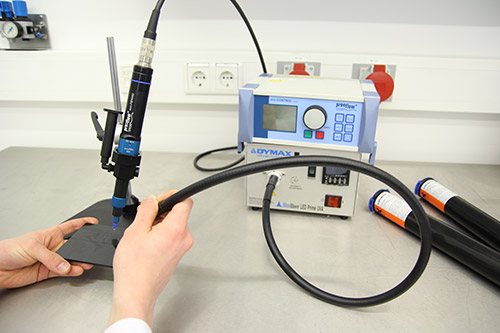 Christian Gruber, system integrator at DYMAX in the European headquarters in Wiesbaden is part of a team of experienced application engineers and developers. Their target is to offer the optimal manufacturing solution in each case – also in cooperation with specialized dosing technology companies. In an interview with preeflow® he is talking about his experiences with the precise dispensers made in Germany:
Preeflow: How do you know the brand preeflow or in general the company ViscoTec? How did it come to cooperation?
Christian Gruber: We know preeflow® from different customers, who dose our UV-curing adhesives with eco-PENs. Using our materials in challenging applications we need – besides highest adhesive performance – a high-grade dosing technology with stable and reproducible results.
Preeflow: What is the difficulty and challenge with dosing your products? What is particularly important?
Christian Gruber: Our UV-curing adhesives can in general already be handled with simple valve technology. However it comes up to microdispensing this equipment possibly reaches its performance limit. Therefore we like to recommend preeflow®. Applications requiring low dosing quantities, dosing beads in a very constant and precise form respectively a different length/with ratio or using filler containing adhesives can partially not be realized in another way.
Preeflow: What are your products used for?
Christian Gruber: Dymax materials are used as adhesives, protective coatings or temporary maskants in many fields of application. They convince through their fast curing by UV or visible light. Their use is in industrial manufacturing, for example in electronics, optics and medical technology as well as in turbine manufacturing and implant production. Especially in medical technology DYMAX is a worldwide known and leading brand for UV-adhesives.
Preeflow: How did working with the preeflow® dispensers by ViscoTec convince you?
Christian Gruber: The general handling is simple and self-explanatory. The compact design of valve and control unit makes it easy to integrate them into existing constructions. The compatibility with our adhesives is excellent, independent of using fillers or peroxide containing products. Even after a several days stillstand the process we were able to continue our tests without any readjustment.